Clinical Audit Awareness Week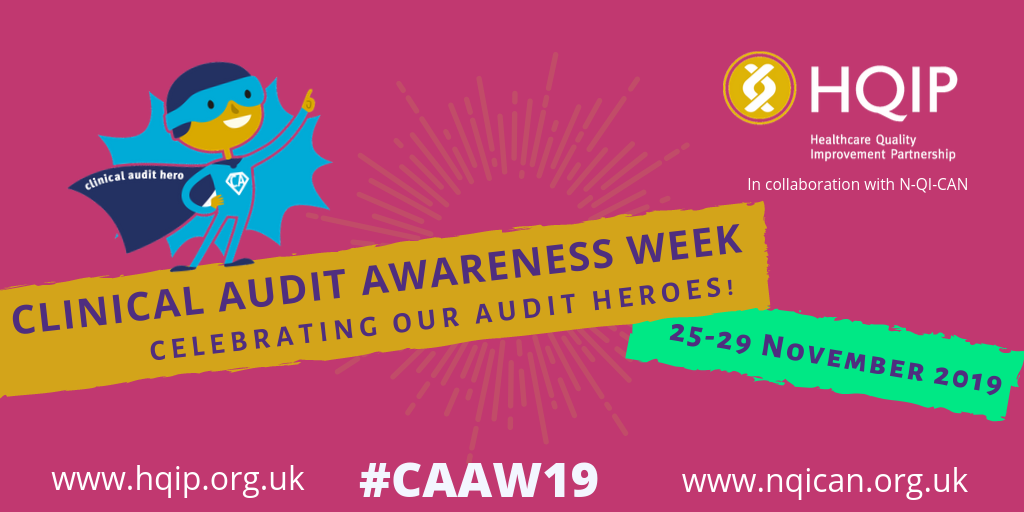 Clinical Audit Awareness Week is a national annual campaign to promote and celebrate the benefits and impact of clinical audit and quality improvement work in healthcare. This includes hospitals, GP practices, hospices and residential nursing care.
Clinical Audit Awareness Week 2019
Organisations across the UK will be holding events and organising celebrations to raise awareness of the impact of clinical audit. To support this, we have a toolkit of resources including social media graphics, posters and template press release.
Clinical Audit Awareness Week 2019 – Promotional toolkit
Audit Heroes Awards 2019
The Audit Heroes Awards are the highlight of Clinical Audit Awareness Week. They are an opportunity to highlight the wonderful work taking place all over the country to improve health care for patients and users of services. Nominations are open throughout October with the winners announced during Clinical Audit Awareness Week.
Hall of Fame 2019
Our Hall of Fame showcases the nominees for this year's Audit Heroes Awards across five categories in recognition of their work and effort to improve the standard of health and care delivered to patients.
Support us on social media! Use #CAAW19 and visit our Twitter page.
Featured reports and resources
Looking for guidance on driving quality improvement? Here are four resources to get you started.