Richard Driscoll Memorial Award

2019 Award – Now open
We are now accepting entries for this year's RDMA. We are committed to making a difference to patient outcomes through the commissioning of national clinical audit and clinical outcome review programme. The Richard Driscoll Memorial Award is presented to the HQIP-commissioned programme that has been judged to have best demonstrated that they have meaningful patient involvement embedded in their work.
All HQIP- commissioned national clinical audit programmes are eligible to submit an application that showcases best practice when involving patients, their carers and families, and their representatives.
Judges will look for evidence of:
Innovation
Sustainability
Communication
Impact
Applications should relate to activity in the past two years.
How to enter
Applications must be completed using the entry form  below and reach us by no later than 5pm, Tuesday 24 September 2019. Please send your completed entry form to Kim Rezel at [email protected]
All applicants will be notified of the outcome on Wednesday 23 October.
The winners will be invited to HQIP's annual general meeting on Thursday 14 November to receive their award and give a short presentation. They will also receive a prize of £100 for donation to charity of their choice or for spending on PPI activity.
Judges
The judging panel is made up of representatives of:
HQIP's board of trustees
HQIP's service user network (SUN)
HQIP team
NICE's public involvement programme
2018 Award
Winner: Epilepsy12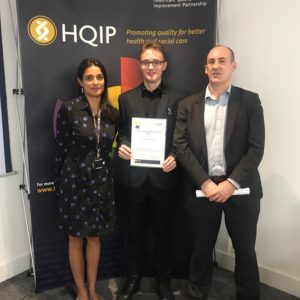 The winner of the first edition of the Richard Driscoll Memorial Award was Epilepsy12, one of 40 national clinical audits and patient outcome reviews commissioned by HQIP and funded by NHS England, and was formally awarded first place for outstanding patient involvement in clinical audit.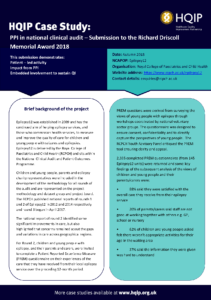 Led by the Royal College of Paediatrics and Child Health (RCPCH) and established in 2009, Epilepsy12 measures and aims to improve NHS healthcare services for children and young people with seizures and epilepsy.
Between April and June 2018 the RCPCH Children and Young People's Engagement Team met with over 130 children, young people and families collecting their views on 'service contact ability' and family mental health. Over 2335 questionnaires were submitted by children, young people and their carers.
Dame Donna Kinnair, Chair of the HQIP Board of Trustees and long-standing CEO of the Royal College of Nursing presented the award to Epilepsy12 project manager Calvin Down and the programme's youth advocates in front of an audience of healthcare professionals, HQIP Trustees and staff.
The following submissions were also highly commended:
The other submissions for the award were:
The first edition of the award was a huge success and we look forward to holding the next edition in 2019. Please check this page for all future updates.
---
The Richard Driscoll Memorial Award was established in 2018 to commemorate our former Chair of the Board of Trustees who passed away in 2017.  Richard worked tirelessly and selflessly throughout his life serving for a number of charitable organisations including the British Society of Gastroenterology, Crohn's and Colitis UK and the UK IBD Registry.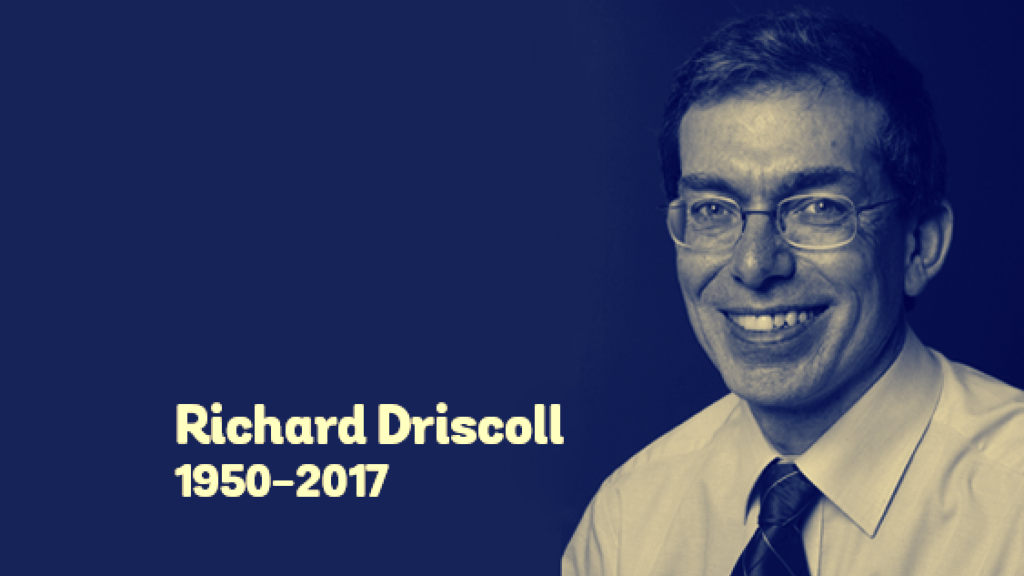 Richard was passionate as a patient representative of National Voices and chair of HQIP and was greatly admired by those who saw his contributions to the organisation.
The award was set up to recognise patient and public involvement in clinical audit and the inaugural award took place on 11 October 2018.
Featured reports and resources
Looking for guidance on driving quality improvement? Here are four resources to get you started.