PPI in Commissioning at HQIP
HQIP is committed to patient and public involvement (PPI); one of the ways we ensure PPI in our core business is through our commissioning process.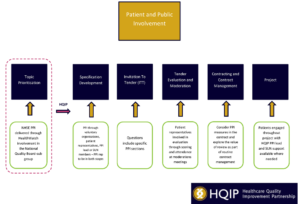 We commission 40 national clinical audit and patient outcomes programmes and we do this in the following way:
• Hold a specification development meeting (SDM) for a topic that is new or being recommissioned. Funders, clinicians, organisations such as NICE and CQC, academics, local audit teams and patients, carers and patient representatives are invited to prioritise the areas of care in that topic, that they would like to see examined in a National Clinical Audit and Patient Outcomes Programme
• Once the specification is finalised, we run a procurement process in which the topic is put out to tender. They are open tenders where the minutes from the specification development meeting and the specification are available for public viewing
• A panel, which will always include at least one representative charged with delivering the patient voice, will score all tender applications using specific scoring criteria
• The panel finalise their decision at a moderation meeting
All projects are expected to have PPI as a core part of their programme and we monitor this through our contract management.
Service User Network (SUN) in the commissioning process
Our Service User Network helped us to co-produce a standard process for incorporating PPI into all of our commissioned work, and we have adapted the methodology for each topic. Some examples are below:
Patient-focus group
Dementia – A number of relevant charities responded to our request for involvement which led to 20 patient/carer reps interested in participating in the SDM. These included patients, carers, charity reps and SUN members. We decided to hold a separate patient-focus group in which themes were developed and then shared by 4 representatives from that group at the SDM.
Patient representatives
Child Health Clinical Outcome Review Programme – Two representatives were found through their organisation and personal work in PPI and in representing children and young people. The PPI lead is taking their views forward into moderation.
SUN member representative
Mental Health Clinical Outcome Review Programme – A SUN member with lived experience is an Independent Advisory Group member for this programme and is involved in the whole commissioning process for the new contract.
We are constantly reviewing our processes to ensure the patient voice is part of our commissioning and we will be monitoring this work over the next few years.
Part of the Pilot commissioning project
During the pilot phase we worked with six SUN members to participate in a half day's training in which we learnt about the HQIP commissioning process and focused in on procurement. During the specification development phase SUN members contributed by adding to PPI expectations and made helpful suggestions about how bidders could work with patient organisations.
Three SUN members then took their role forward as scorers for the bids that came in; they were supported through our e-procurement system and were able to send clarification questions which were then finalised during a final moderation meeting.
The HQIP team found their contributions valuable and thoughtful, SUN members gave feedback showing that they thought their opinions were considered and that they felt part of the team.
Please contact Kim Rezel to find out more about PPI in the commissioning process.
Featured reports and resources
Looking for guidance on driving quality improvement? Here are four resources to get you started.