Quality Improvement (QI) publication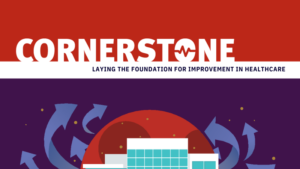 We are pleased to share the 2024 edition of CORNERSTONE, HQIP's FREE publication designed to support Quality Improvement (QI) in health and care.
"If we have a detailed understanding of what is happening, where and to what extent, then we can adopt a 'smarter' approach to quality improvement; we can see where change is needed and where resources need to be directed. Importantly, we can also see where they are not required."
Aimed at those who are passionate about improving patient outcomes through evidence-based service design, the 2024 edition features short, easy-to-read articles on the following topics:
Patient and Public Engagement – find out how two award-winning projects have undertaken effective patient engagement, with interviews with both patients and healthcare professionals
Benchmarking – in a minefield of data and information, what are the key resources and developments in relation to benchmarking in healthcare?
Translating data into meaningful change – using national healthcare data to support the best care for patients
An 'umbrella approach' to audit: sharing, efficiencies and results – the National Cancer Audit Collaborating Centre (NATCAN) one year on
How data on joints benefits hospitals – 20 years of the National Joint Registry
Taking an effective and sustainable approach to clinical audit.
It also contains award-winning exemplar projects, resources, Quality Improvement (QI) support and more…
Please share: We welcome the sharing of articles within this publication for not-for-profit purposes (with acknowledgement of HQIP's copyright). Please share with Communications teams for this purpose and, of course, forward details with colleagues across the health and care sector. If you require further content for this purpose, please contact [email protected]. 
CORNERSTONE 2023
The 2023 edition of CORNERSTONE is also available to read online, with articles on the following topics:
The value of healthcare data
Patient safety
The impact of national clinical audit
Engaging patients
Healthcare inequalities
Focusing on the right data for impact.