Leading multi-disciplinary teams towards consensus
Summary
The team at HQIP is highly skilled at convening groups of multi-professional experts across fields and disciplines to work through challenges and arrive at consensus decisions that lead to improved patient care.
We were commissioned by the Department for Health and Social Care (DHSC) to facilitate discussions amongst experts on how to develop a single data solution that could capture data and eventually report outcomes on surgical mesh implant procedures. Urogynaecological surgical mesh is used to treat stress urinary incontinence (SUI) and pelvic organ prolapse (POP).
Background to the project
In February 2018, the Secretary of State for Health and Social Care announced a review into how the health system responds to reports from patients about harmful side effects from medicines and medical devices, including surgical mesh. The review, Independent Medicines and Medical Devices Safety Review (IMMDSR), is chaired by Baroness Julia Cumberlege CBE DL.
After considering an early recommendation from the IMMDSR in July 2018, DHSC instigated a pause in the use of surgical mesh.
There are three current sources of data maintained by three professional medical societies, and a feasibility study was commissioned by DHSC to explore whether they could be used to establish an interim data solution to meet the national pause recommendations.
The HQIP approach
In September 2018 we were commissioned by the DHSC to undertake the feasibility study.
We were tasked with exploring the current sources of mesh, SUI or POP data maintained by three professional societies- the British Association of Urological Surgeons (BAUS), the British Society of Urogynaecology (BSUG) and the Pelvic Floor Society (TPFS) – and whether these current data collections could address the recommendations from the Baroness Cumberlege review as an interim measure before a full clinical national registry could be established.
We delivered the project via a series of technical and stakeholder workshops involving experts from the professional societies and across the healthcare system as well as patients and charities. The aims of the work were to:
explore the current sources of available data for SUI and POP procedures involving surgical mesh
discuss the recommendations of the Independent Medicine and Medical Devices Safety (IMMDS)
review and agree the requirements of an interim database(s) to meet those recommendations
discuss the data and reporting requirements of an interim database(s)
agree the scope of the interim database(s) and explore a minimum mesh dataset for collection
outline the practicalities and explore the possible solutions to develop a feasible outcome data collection solution
consider the longer term requirements of a SUI and POP registry
listen to views about patient outcomes and agree what is important for women
undertake an option appraisal of the potential models available and develop recommendations of modifications required to existing data sources to achieve an interim database solution to meet requirements
What the team found
We published a feasibility report in July 2019 (available to download here).
We made 10 recommendations for the establishment of an interim database, including:
establishment of an oversight governance group
scope (geographical and clinical), inclusion criteria and rationalised minimum dataset
participation requirements
data flows and linkage to other national datasets
information governance requirements
Other recommendations focus on aims and objectives, data quality, patient outcome measures and outputs.
We also proposed that further patient engagement is required during the establishment of an interim database to ensure the information collected is appropriate and takes important patient outcomes into consideration; this should include wide representation from patient groups.
Impact of the work
We presented the results to DHSC for consideration of the preferred model to be used to establish an interim database, and implementation of recommendations to establish an interim database. DHSC is expected to publish next steps in due course.
Case studies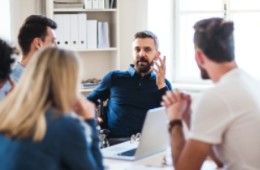 A partnership of three NHS Trusts approached HQIP to act as a 'critical friend' to check and challenge their thinking in the implementation of a major reconfiguration of vascular services.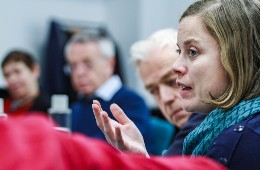 HQIP offer full induction days for individuals or groups on the national clinical audit and patient outcomes programme (NCAPOP).