The First 100 Days
Published: 25 Feb 2021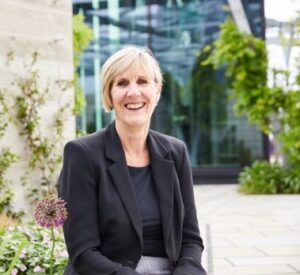 We all share the wish to improve health outcomes for individual patients and the wider population. So, when the opportunity to chair the Board of HQIP – the organisation's vision being to 'improve health outcomes by enabling those who commission, deliver and receive healthcare to measure and improve our healthcare services' – was offered to me, I grabbed it with both hands.
It is amazing that my first 100 days in this role at HQIP have passed and they have done so remarkably quickly. While I already had knowledge of, and involvement with, the work of HQIP, being Chair has allowed me more of a glimpse "under the bonnet". Although not a mechanic, I recognise a well-oiled machine when I see one. However, no matter how well the engine is running there is always the need for checking, monitoring, adjusting and fine tuning to increase performance and capacity to look for upcoming opportunities and to meet future challenges. So, what are these likely to be?
Real time data challenge 
The key to modern healthcare improvement is the collection of data using agreed standards and metrics to review and compare performance objectively. More than this, it is the contextualisation of that dataset into useful clinical information that makes it really valuable for the next step, which is to use these data to effect change. Sharing the findings and recommendations with stakeholder organisations and providers enables them to drive change.
HQIP's strength is that it has the expertise and relationships to enable this process in an independent manner, and at scale. The reputation of, and changes delivered by, the national clinical audit and patients' outcomes programme (NCAPOP) , commissioned and managed by HQIP, is testament to this ability. More is needed but the biggest challenge in the world of audit at the present time is a need to provide access to, and reporting on, routinely collected recent data so that we can react and plan improvements based on current conditions. A plan to address this 'real time' data challenge which is highly relevant to future patient care is essential and being actively pursued.
In addition, there will be opportunities: HQIP's stated intention to expand its programme and stakeholder base beyond current national audits is an exciting venture – being open for new business in order to diversify core activity is an area of ambitious focus that is being fully explored.
Working practices
It goes without saying that the most obvious challenges at the moment relate to the Covid-19 pandemic – it is nearly a year since everyone began to work from home rather than in the office. Exhibiting a high degree of adaptability, HQIP staff have adjusted remarkably well to this change, with practical policies and wellbeing support being put firmly in place from the start. This past year has been difficult but everyone has reacted positively and remained committed to the organisation as experts in their own field – something that deserves full recognition.
The agreement to relinquish the office space at Dawson House and continue with this arrangement makes complete sense as things continue to evolve. However, working practises will require close monitoring to decide whether continuing with this new way of working or a blend of home and office working will be the long-term solution. This needs to be watched closely with staff feedback being intrinsic to making the best decision.
Patient and public involvement
Involvement of patients and the public is central to everything done by HQIP. The benefit of an advisory group of patients and carers – the Service User Network (SUN) – who have an active role in all aspects of the work, from the selection of projects through to the implementation of change phase, cannot be under-estimated. This partnership between patients and professionals is vital to provide relevant standards and outcomes for quality improvement projects. Maintaining a diverse body of service users, especially from groups that are particularly difficult to engage, is a constant challenge as it is essential to take a broad range of patient experiences and outcomes into account.
HQIP and its staff are fully supported by a Trustee Board that has the interests and skills required to provide governance and guide future strategy – they are appointed from our three parent organisations: the Academy of Medical Royal Colleges; The Royal College of Nursing; and Patient Voices. There will soon be changes to the Trustees as some members complete their (in all cases, multiple) terms of office. This will mean losing many years of organisational memory and experience which have been instrumental in the success of HQIP. It will also offer opportunities to bring in new members with different abilities and expertise to face the challenges ahead. I would like to thank all Trustees for all they do for HQIP as well as my predecessor, Donna Kinnair, who steered the board over the past 3 years.
My first 100 days have been informative and I look forward to the next several hundred as HQIP continues measuring, benchmarking and comparing in order to implement change that makes a difference to patient care.
Professor Carrie MacEwen
Chair of the HQIP Board of Trustees
This blog was published on Thursday 25 February 2021, 100 days after Professor MacEwen became Chair of HQIP's Board of Trustees.