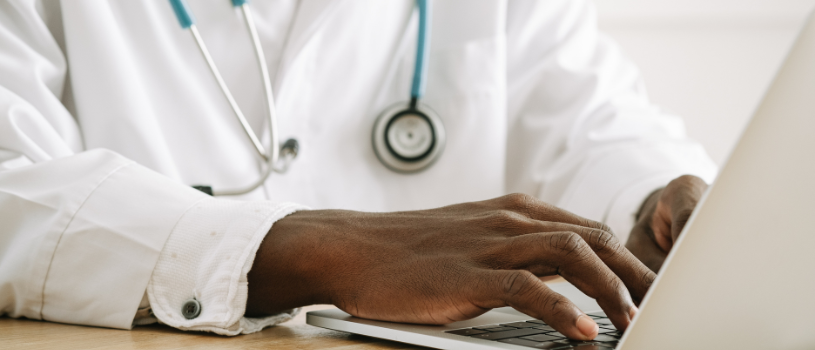 National Medical Director's Clinical Fellow Scheme 2023/24 – Applications now open
Published: 28 Oct 2022
The National Medical Director's Clinical Fellow Scheme, sponsored by the National Medical Director of NHS England and is managed by the Faculty of Medical Leadership and Management, provides doctors in training with the unique opportunity to spend 12 months working in national organisations, to develop a range of enhanced leadership, policy, project, and communication skills. The scheme aims to equip trainees with the skills required to lead effectively, in preparation for future leadership roles. Clinical fellows are immersed in organisations such as HQIP, NHS England, HEE, GMC, CQC, NICE and BUPA and lead on projects that contribute to national healthcare priorities.
Leadership development is supported through a comprehensive programme that seeks to enhance clinical fellows' leadership capabilities. Over the year, clinical fellows will gain opportunities for joint working with fellows from other professions and UK counterpart schemes in Wales, Scotland, and Northern Ireland.
Benefits of the scheme
Clinical fellows will bring back a vast range of skills and experience from their fellowship which is of considerable value to employers. These include:
An enhanced understanding of healthcare policy and the mechanism to support implementation.
An enhanced understanding of the complexity of emerging policy and the ability to lead positive change, by identifying the contexts for change, applying knowledge and evidence, making decisions, and evaluating impact.
The ability to deal with complex issues and to communicate these concisely, and to critically evaluate policies and processes.
The ability to explain clinical issues, and their relevance, to clinical and non-clinical colleagues in a clear and persuasive manner.
The ability to communicate with stakeholders at all levels and to influence change.
Skills in developing and working with teams and supporting others in developing their own personal insight and effectiveness.
Posts commence from 1 September 2023 for 12 months until 31 August 2024. At the end of the scheme, clinical fellows will join a community of diverse and highly skilled alumni. The Clinical Fellow Alumni Programme is a formal network for clinical fellows to stay connected and engaged with ongoing leadership development opportunities.
The deadline for applications is 5pm GMT on 23 November 2022.
For more information, visit the scheme website.
If you would like to learn more about life as a Clinical Fellow at HQIP, take a look at previous Clinical Fellow, Dr Josie O'Heney's blog.