HQIP patient involvement champion recognised in the Queen's Birthday Honours
Published: 29 Oct 2019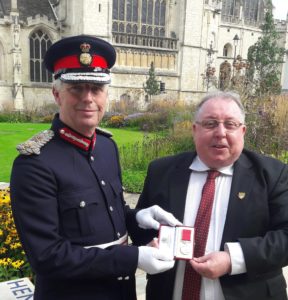 A member of HQIP's service user network has been awarded a British Empire Medal for services to volunteering, public services and the community.
Bren McInerney was recognised in this year's Queen's Birthday Honours, which recognise the achievements and service of people across the UK.
For over two decades Bren has carried out volunteer activity to ensure the voices of people and communities are heard, understood and acted upon. Bren focuses on the needs of seldom heard people and communities particularly in relation to health inequalities.
Bren said: "It is an amazing and humbling experience. I will never forget that this is a reflection of people's trust and belief in me to do what is right, not always easy, but right to do. The medal is never mine; I see it is ours.  It is a reminder of the importance of supporting all people and communities – particularly the most in need – and the importance of meaningful engagement and involvement of people and communities, working better by working together."
Kim Rezel, HQIP's Patient and Public Involvement Lead, said: We were really proud to hear of the honour received by our very own Bren McInerney for the community outreach work he has done over the years in Gloucester. I'd also like to take the opportunity to thank Bren for his continued hardworking support as an HQIP SUN member for over eight years."
Bren has been a member of the HQIP Service User Network (SUN) for nearly a decade and has contributed with dementia, emergency laparotomy and stroke audits, as well as contributing to the SUN meeting and attending the Annual General Meetings.