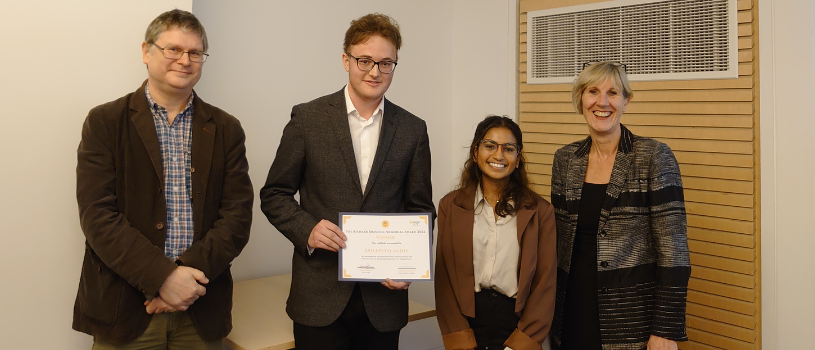 Epilepsy12 Audit wins excellence award for patient involvement
Published: 17 Nov 2022
A national clinical audit that aims improve the quality of care for children and young people with seizures and epilepsies in England and Wales has been named the winner of a national award for outstanding patient and public involvement.
The Epilepsy12 Audit won the 2022 Richard Driscoll Memorial Award for its exceptional collaboration with young people and families and an embedded approach to engagement.
Kim Rezel, our Head of Patient and Carer Engagement and award facilitator said: "All HQIP commissioned programmes are asked every year to share how they engage with patients, carers and the public to support patients in their care and communicate information about their project. The submissions this year, highlighted their commitment to involve patients and carers illustrating innovative approaches to engagement, co-production and dissemination.
"The judges were very impressed with how the Epilepsy12 audit team collaborated with young people and their families."
Adrian Hardy, member of the Service User Network (SUN) who was involved in the judging panel, said: "It is clear from their submission that Epilepsy12 prioritse the views of young people, investing in the Youth Advocates group to lead on communication and the resource development. We were particularly impressed with flexible, inclusive nature of the Youth Advocates group and how they are clearly making an impact.
Epilepsy12 is delivered by The Royal College of Paediatrics and Child Health, and is one of 40 national clinical audits and patient outcome reviews commissioned by Healthcare Quality Improvement Partnership (HQIP) and funded by NHS England.
The award judges also commended the National Child Mortality Database (NCMD) and the National Audit of Breast Cancer in Older Patients (NABCOP).
The National Child Mortality Database, which gathers information on all children who die in England with the aim of improving and saving children's lives in the future, were recognised for their sensitive and effective collaboration with charities to embed views of families and carers.
The National Audit if Breast Cancer in Older Patients, which aims to support NHS providers to improve the quality of hospital care for older patients with breast cancer, impressed the judges with their excellent patient involvement programme and co-produced resources.
Case studies from this year's winner and commended entries can be found below:
All of the submissions will feature as patient and public involvement case studies on HQIP's website in the coming weeks.
The Richard Driscoll Memorial Award was introduced to acknowledge and reward outstanding patient and public involvement in our commissioned programmes. It was launched in September 2018 in tribute to HQIP's former Chair of Trustees, a passionate life-long ambassador for patient care, who sadly passed away in 2017