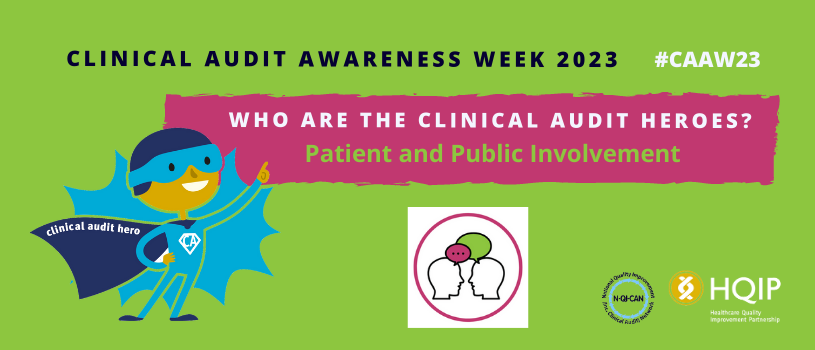 Patient and Public Involvement Hero award announced
Published: 20 Jun 2023
The winners of the Clinical Audit Awareness Week 2023 Patient and Public Involvement award have been announced today; congratulations to:
JOINT WINNER: Solent Academy of Research and Improvement Side by Side group

Side by Side is a group of patient and public involvement representatives that supports the integration of clinical audit, service evaluation, quality improvement, research and library teams within the Solent NHS Trust. Support comes in many forms, such as co-delivering training workshops, supporting improvement projects, reviewing reports, sitting in interview and award panels, and organising an annual conference.
The judges were impressed by evidence of co-leading and advising on future audits, and so supporting long term change. They also liked the fact that training was made available for patients to be involved, and said that they look forward to hearing more about the work of this project going forward.
For more information, go to: www.academy.solent.nhs.uk/side-by-side.
JOINT WINNER: Epilepsy12 Youth Advocates, Royal College of Paediatrics and Child Health

Epilepsy12 is a group of epilepsy experienced or interested children, young people, families, and an epilepsy specialist nurse. They volunteer to shape the Epilepsy12 clinical audit and lead improvement activities with patients, families, and epilepsy services. They bring together their voices, experiences, hopes and wishes to life through youth-led project work and advocacy.
The judges were impressed by how this project demonstrates the prioritisation of patients, with young people involved in all elements of the audit, as well as innovative communications methods and strong links to professionals over an extended period of time.
Epilepsy12 case study: www.hqip.org.uk/wp-content/uploads/2022/11/Epilepsy12-Richard-Driscoll-Case-Study.pdf
For more information, go to: www.rcpch.ac.uk/work-we-do/clinical-audits/epilepsy12.
COMMENDED: Laura Hall, Quality and Audit Midwife at Southport and Ormskirk NHS Trust
In addition, the judges were pleased to commend Laura Hall, Quality and Audit Midwife at Southport and Ormskirk NHS Trust, who was nominated for a number of innovations involving patients in maternity services. A recent example which was cited involved asking patients about their experience of the Trust's caesarean section pathway, the results of which were shared with the Maternity Voices Partnership (an NHS working group comprising women and their families, commissioners and providers, all working together to review and contribute to the development of local maternity care).
The Clinical Audit Heroes Awards (part of Clinical Audit Awareness Week)
The Patient and Public Involvement award recognises clinical audits and projects that effectively engage with patients, carers and their communities, and is one of five categories in this year's Clinical Audit Heroes Awards. The winners of each award are announced at a series of daily Lunch & Learn events, hosted by N-QI-CAN, on each of the award topics from 19-23 June. Details of these events (and recordings for those who wish to listen again, once they have taken place) – in addition to news of all the winners – can be found on the Clinical Audit Awareness Week webpage.
And don't forget to join in the fun by sharing online, using #CAAW23!
Further information: Clinical Audit Heroes awards.