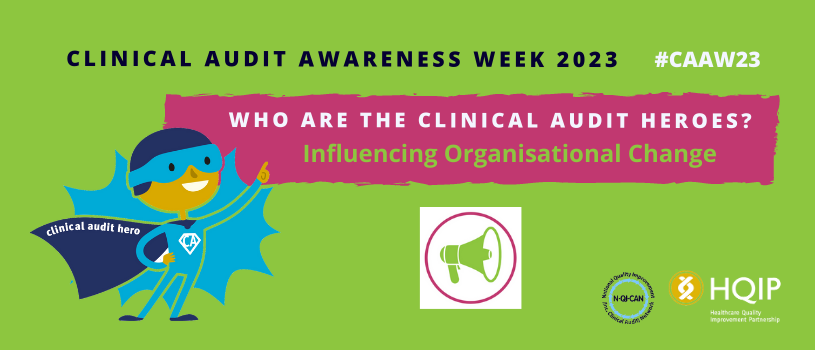 Influencing Organisational Change Hero award announced
Published: 22 Jun 2023
The winners of the Clinical Audit Awareness Week 2023 Influencing Organisational Change award have been announced today; congratulations to:
JOINT WINNER: Amy Baker, Patient Outcomes Manager, and the Patient Outcomes Team at Cambridge University Hospitals
The team was recognised for designing and populating a National Clinical Audit Benchmarking (NCAB) database, to record whether clinical teams have performed better, worse or similarly to the national average performance for all important clinical outcome measures. Presented as a dashboard with charts, this allows the hospital's teams to easily compare and learn from peers across the country.
The judges were impressed by how the project encouraged the engagement of the audit community with National Clinical Audits (NCAs), by focusing on the improvement of care and treatment for the benefit of patients. Of particular note was how centralising NCA results improved clinicians' access to results, freeing up time to care and improving transparency across specialties.
JOINT WINNER: Ella Howard, Emotional Health and Wellbeing Service Assistant Psychologist at Cambridgeshire Community Services
Ella was recognised for taking a different approach to her audit programme, utilising her psychology background. She understood that just producing a reliable tool wasn't enough, and focused on what could prevent clinicians producing quality documentation in order to determine what the "gold standard" looked like. The audit programme was designed around gaining buy in, everyone knowing what they were aiming for, and creating actions where they could see results that made a difference. Examples of the work involved include focus groups to refine the questions, and the development of a training document.
The judges were impressed by how Ella introduced a regular review process that required leads to look at how effective their actions had been in practice and agree focus for the next quarter using emerging themes. They remarked that she transitioned her audit programme from a standalone tool into a quality improvement project, creating a positive audit culture where supportive peer review takes place.
COMMENDED: Dementia and Delirium Team at Southport and Ormskirk NHS Trust
The judges were also pleased to commend the Dementia and Delirium Team at Southport and Ormskirk NHS Trust, for a reaudit against the SIGN 157 guideline Risk reduction and management in delirium (2019) and the NICE guideline NICE CG103 Delirium: prevention, diagnosis and management (2019). Of particular note is an innovative Keep Me Here initiative, created to prevent inappropriate hospital bed moves of patients with complex symptoms of dementia and slow to resolve delirium. This includes an electronic form on the clinical system to indicate that a patient should not be moved.
The Clinical Audit Heroes Awards (part of Clinical Audit Awareness Week)
The Influencing Organisational Change Hero Award recognises clinical audits and projects that have supported meaningful change at Board or other senior management level, and is one of five categories in this year's Clinical Audit Heroes Awards. The winners of each award are announced at a series of daily Lunch & Learn events, hosted by N-QI-CAN, on each of the award topics from 19-23 June. Details of these events (and recordings for those who wish to listen again, once they have taken place) – in addition to news of all the winners – can be found on the Clinical Audit Awareness Week webpage.
And don't forget to join in the fun by sharing online, using #CAAW23!
Further information: Clinical Audit Heroes awards.