HQIP's Chair Dame Carrie MacEwen appointed Chair of General Medical Council
Published: 16 May 2022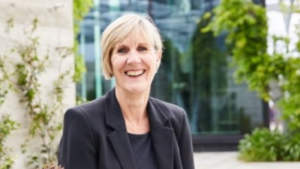 Chair of the HQIP's Board of Trustees, Dame Carrie MacEwen has been appointed the new Chair of the General Medical Council (GMC), becoming the second woman to hold the Chair since the GMC was established 164 years ago.
She said: 'I am delighted and feel very privileged to have been appointed the next Chair of the GMC. This is a particularly challenging time for healthcare and I look forward to working collaboratively with partners across all four countries of the United Kingdom to support doctors to provide the best possible care for patients.
'I would like to pay tribute to my predecessor, Dame Clare Marx, whose legacy of compassionate support for doctors will endure; fair, open and respectful working environments are essential for clinicians to be able to perform at their best and, therefore, provide the safest patient care.'
Dame Carrie is a consultant ophthalmologist for NHS Tayside and Honorary Professor at the University of Dundee. She served as Chair of the Academy of Medical Royal Colleges, until 2020 and is Past-President of the Royal College of Ophthalmologists.
Find out more on the General Medical Council's website.