Maternal, Newborn and Child Health Procurement Framework Agreement
Published: 03 Mar 2016
HQIP currently commissions several national audits and clinical outcome review programmes operating in the clinical areas of maternity services, perinatal services, and child health. At present, these programmes are commissioned as separate contracts and there is limited scope for systematic overview or alignment, and support for collaborative working. Running multiple single contract opportunities also leads to significant duplication of effort for both HQIP and bidders, particularly in the PQQ (pre-qualification) phase. In order to address these issues and improve synergies between these work streams, HQIP will this year be moving to a procurement framework approach for the following topic areas:
Child Death Review Database
Child Health Clinical Outcome Review Programme
Maternal, Newborn and Infant Clinical Outcome Review Programme
Maternal and Perinatal Audit
National Neonatal Audit Programme (NNAP)
Paediatric Epilepsy
Paediatric Intensive Care (PICANet)
The timetable below is provided as a guide and may be subject to change.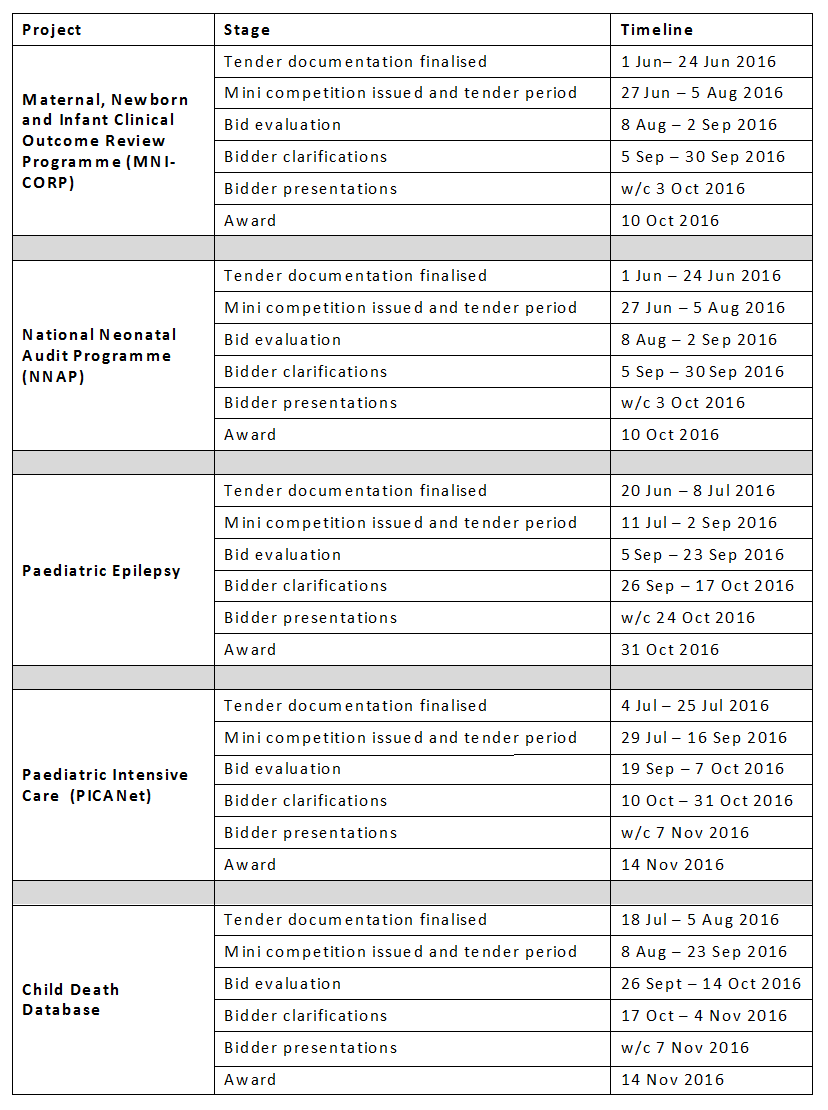 To ensure our governance and decision-making systems reflect the alignment embodied in the Framework, we will bring these programmes under two overarching groups: a Maternal, Perinatal and Infant Independent Advisory Group and a Child Health Independent Advisory Group – with sub-groups for each project. This will allow for better alignment across the programmes and a consistent governance model.
Further information about framework agreements
A procurement framework agreement is an umbrella agreement that defines a set of organisations that are pre-qualified to compete for a number of future contract opportunities. The framework operates for a four year period and covers a pre-stated range of total contract value over that period.
As is the case with all public procurement activities, the framework will be advertised via OJEU and a formal procurement process followed. The procurement process will assess bidders' ability to meet criteria which assess their capacity and capability to run these types of national projects. If able to meet these criteria, bidders will be awarded a place on the framework. There is no limit as to the number of eligible providers that can be part of the framework.
All organisations that are on the framework will be eligible to bid for any individual contract that HQIP advertises as part of the framework during the four year period through a process called a mini-competition. As the organisations on the framework will already have completed the pre-qualification phase in order to join the framework, the mini-competition will be a more efficient and streamlined process for both the commissioner and the bidders.