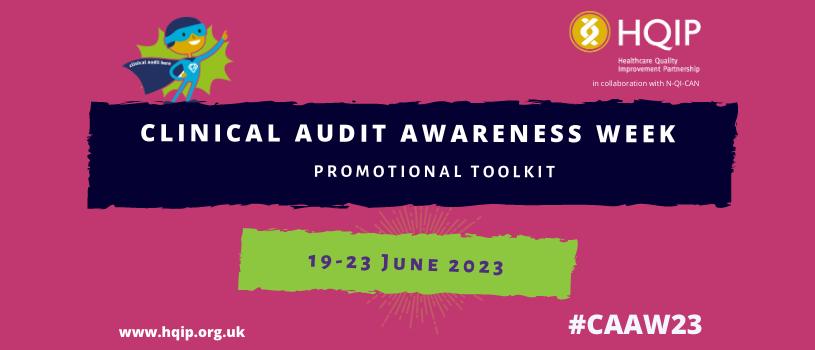 Clinical Audit Awareness Week 2023 – Promotional Toolkit
Published: 14 Mar 2023
Clinical Audit Awareness Week #CAAW23 (19-23 June 2023) is a national annual campaign, featuring the Clinical Audit Heroes Awards, that promotes and celebrates the impact of clinical audit in healthcare.
While it is hosted by HQIP in collaboration with N-QI-CAN, it is the clinical audit, quality improvement and wider healthcare communities (and the multitude of events and activities that you organise), that make this event a success.
To support #CAAW23 activities in your organisation, we have created a toolkit of resources you can download and share. This includes:
Social media and digital resources
Join in the celebrations by sharing what you're doing on social media using the hashtag #CAAW23. For example, you could ask your organisation's communications team about hosting a 'twitter takeover', where you take over the reins of the corporate account for a day to give followers an insight into your work. From an email signature and event poster through to social media headers and posts, check out what's available.
Content for sharing
We provide suggested content that can act as a template to help you share your news around #CAAW23. Once personalised, you can share it on your intranet, hospital magazine or newsletter, or share it by email.
Say thank you
Show your appreciation and thanks to your colleagues. You can give them a certificate to let them know how much you appreciate their support; send them a thank you card or postcard; or email your thanks with an e-card.
The complete toolkit can be found here (further resources will be added over the course of #CAAW23, so do check back for updates).
Further information: Our dedicated #CAAW23 page can be found here.